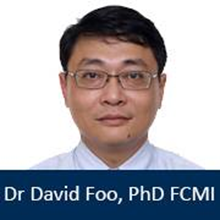 FOUNDER & TUTOR – DR DAVID FOO, PhD FCMI
Dr Foo was the first Singaporean Scientist to be awarded the prestigious Glenn T Seaborg Fellow at Los Almos National Laboratory, USA
Dr Foo has also been one of the founding staff members of the Institute of Chemical & Engineering Sciences (ICES), and occupies a place as the regional technical staff member of Johnson & Johnson's Singapore Research Centre
Dr Foo has long been associated with the study of chemistry.
He began his teaching career in Singapore at St Joseph's Institution and Willow Avenue Secondary School, and progressed to teaching chemistry at US universities
Till as recently as 2012, Dr. Foo was working with the Great Science Challenge as well as the National Science Challenge, and was responsible for the development of all chemistry questions.
Dr Foo also currently holds a position as the Chairman to the School Advisory Board at North Spring Primary School.
"We Create Independent & Motivated Learners"